Hacking Pictures
Based on the article in MacAddict Magazine

Pictures (PICTs) are among the most commonly hacked resources, if only because they're so darned abundant. Why did the hacker tweak the PICT? Because it was there. Duh.
NOTE
Pictures always work best if the image you paste in is the same size as the original. I do this by using the original picture as a "template" in a paint program, and only painting over that area (to guarantee it is the same size when I paste it back in).
If you want to see how big an image is to make sure, you can double click on it and Resorcerer will give you the size.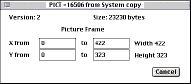 Most graphics in the Mac are PICT resources -- the exceptions are icons (which are just a specialized small PICTs). You'll find PICTs lurking everywhere: the startup screen, logos, palette buttons, and in most respectable About boxes.

Designing your replacement PICT is probably the hardest part about hacking picture items -- if you can copy and paste, you've basically got the process down. Try these picture hacks:

So have fun with hacking pictures, they are easy and give your system a very personal feel.
---

Places to see
Check out the following Web sites for links to cool pictures you can use in your own startup works of art.
---
Created: JULY/98
Updated: 11/09/02
Top of page


Top of Section


Home