Mac Easter Eggs
Control Panel
By: David K. Every
& Daniel Fanton
(C) Copyright 1999 DKE - All Rights Reserved.

Map (7.5.1)
Click on the version
The phrase"v.7.0, by Mark Davis" will show in the dialog box.
(His initials are also printed in Antarctica)
Find
If you push Option-Find you can scroll through all the places on the map from A-Z. If you pass Zurich the names of the places will be in the native language they are spoken there.
Middle of nowhere
Type mid and you will see "middle of nowhere".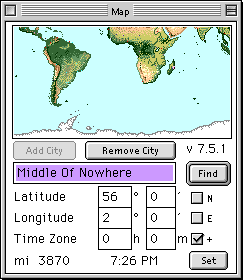 German Map Egg
In the Map Control Panel of the German System 7.5, enter the city names Chicago or San Francisco,
You will be shown some very strange places in the world. However, if you have a very detailed map (on paper, not the Control Panel), you will indeed find these places there. San Francisco is shown in the Baleares near Spain, and Chicago is some hundred miles west of Africa. Those places exist, but they have scarcely more than a few hundred inhabitants.
The damn pesky places
Open the Map control panel.
Type "low" into the Find box, and press return.
You will find one of the cities from the Date & Time Control Panel, Lower Burrell! And sure enough, typing "lake" uncovers Lake Nebagamon, U.S.A.
---
Created: 07/26/99
Updated: 11/09/02
Top of page


Top of Section


Home