Mac Easter Eggs
Control Panel: PowerBook
By: David K. Every
& Daniel Fanton
(C) Copyright 1999 DKE - All Rights Reserved.

Date & Time (7.5)
Balloon-help on "Daylight Savings Time" to see a common phrase.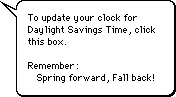 Cities
There are also two pretty unusual cities in Date & Time and the Map.
Lower Burrell, Pennsylvania - or - Lower Burrell (pop. 13,200)
Lake Nebagamon, WI.
Anybody know where the programmers might come from?
The problem with finding the eggs and pointing them out is that Apple keeps fixing them -- so these are only a memory on newer systems.
---
Created: 08/26/98
Updated: 11/09/02
Top of page


Top of Section


Home