Hacking the Trash
As seen in MacAddict Magazine

The Hack: Your Trash Can
String arrays supply a bundle of hacking opportunities. By editing the string array for the Mac's Trash, you can rename the can, spice up related menu commands, and dilute the alert to sound less menacing. Here's how: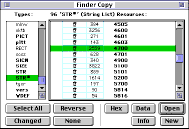 1. Create a copy of the Finder and open it with Resorcerer. Then select the STR# array with the ID 4700.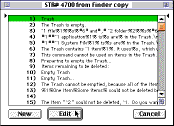 2. Open the string array and you'll see a long list of strings, all having to do with the Trash.
Select ID #1 from the list (double-click) or edit.
Replace "Trash" with "Garbage".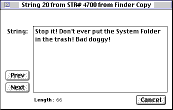 3. Change string ID #10 and #11 from Empty Trash to Eat Garbage.
Also change ID #20 from "The System Folder cannot be put in the Trash, because it contains the active system software" to "Stop it! Don't ever put the System Folder in the trash! Bad doggy!"
4. Save your changes, drag your original Finder out of the System Folder, rename the Finder copy to Finder (it should still be in the System Folder), and restart your machine.
After your Mac reboots, the Trash icon will be rechristened Garbage, the Special menu will invite you to Eat Garbage instead of Empty Trash, and if you drag your System Folder to the Garbage, the Finder will slap you with a newspaper and call you a bad doggy!
---
Created: JULY/98
Updated: 11/09/02
Top of page


Top of Section


Home