Resorcerer Revealed
As seen in MacAddict Magazine

The Hack: Changing Finder Strings
Every Application has strings, but the Finder is running all the time. So if we change strings in the Finder it is very likely that our friends of family will stumble across our changes, making these changes worthy of the 2 minutes of effort we will spend doing them.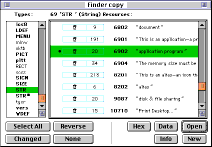 1. Create a copy of the Finder and open it with Resorcerer.
Select the STR with the ID 6902.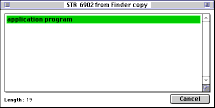 2. Open the string and replace the text "application program" with something else -- I used "My Program".
3. Save your changes, drag your original Finder out of the System Folder, rename the Finder copy to Finder (it should still be in the System Folder), and restart your machine.
After your Mac has rebooted find any Application (from the Finder), and "Get Info" on it. If it is an Application, instead of saying "Kind: application program", it will instead say, "Kind: My Program".
There are many fun little finder strings you can change -- be creative, but always work with on a copy (and keep the original around -- just-in-case).
---
Created: JULY/98
Updated: 11/09/02
Top of page


Top of Section


Home