Sound Control Panel Hack
From the artice in MacAddict Magazine

The Egg: Sound Control Panel
The Sound Control Panel is no longer as popular as it once was... Apple has merged the Sound Control Panel with Monitors, and on New Systems (post System 8) we have "Monitors & Sound" Control panel. But you can still find the old Sound Control Panel in your Apple Extras folder -- but be quick, no telling how soon until Apple stops shipping it altogether.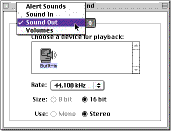 Why the rush? The Sound Control Panel has an Easter egg sound (a raucous "Wowww!") in it that you can listen to by holding the Option key down as you choose from its pop-up menu.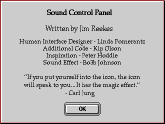 Jim Reekes obviously had too much time on his hands.... and Apple needs to work him harder.
OK, enough with hatching the Sound Control Panel Easter Egg, lets scramble it!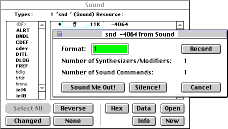 To hack the egg, simply drag the Sound control panel file onto Resorcerer to open it, then open 'snd' -4064 and record a new sound ("Yecchhh!") into the resource -- make sure your voice is nice and gravelly with a faint touch of phlegm.
Close the resource, close the file, launch the control panel, and you've got your own scrambled Easter egg surprise.
---
Created: JULY/98
Updated: 11/09/02
Top of page


Top of Section


Home