Resorcerer Revealed
As seen in MacAddict Magazine

Resorcerer's Find
Open of the big advantages of Resorcerer, is its ability to "Find" things -- especially text. So if you don't know where something might be, you can have Resorcerer tell you. Let's try a small example of that.
Imagine we want to find the "Print One Copy" item in SimpleText.
1. Make a copy of SimpleText and open it with Resorcerer.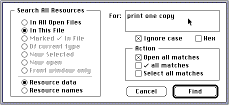 2. Choose Find All from the Resource menu, and search all resources in the file using the matching text "Print One Copy".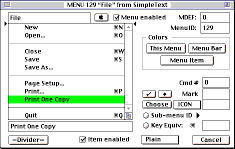 3. This will find and open the items that have "Print One Copy". In this case, it was the MENU resource, so it opened and highlight the right menu command for us automatically.
Now we can hack this resource in whatever ways we might want to (only limited by our imagination).
If Resorcerer can find many results, then it will open a window for each type of item it finds.
Searching like this is really handy when you don't know which resource is which, or to find all the different areas in a file where this text is used.
---
Created: JULY/98
Updated: 11/09/02
Top of page


Top of Section


Home