Menu Resources
From the article in MacAddict Magazine

The Hack: Menu Shortcut
Changing the commands in a menu is good, clean fun, but changing the keyboard shortcuts in a program's menus can actually be useful.
NOTE: The only thing to watch out for is assigning a shortcut key that's already in use elsewhere in the program. If you duplicate a shortcut key, you won't know which command the program will choose to perform, and that's definitely a confusing situation.
In this hack, we'll add a shortcut to SimpleText to make it easier to print one copy of a Read Me or other text file.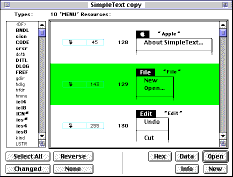 1. Make a copy of SimpleText and open it with Resorcerer. Then choose MENU from the list of resource types and scroll down to menu 129. This is an File menu for SimpleText.
NOTE: Read "Resorcerer Finds" for a way to find what you are looking for.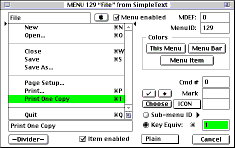 2. Enter the digit "1" in the Key Equivalent field for the "Print One Copy" command. Then save the MENU 129 resource, and save your changes to the file.
3. Run your modified copy of SimpleText to try the new shortcut.
The program will work identically to the original, but now you can tap command-1 to quickly print one copy of whatever you're reading. Simple text!
History Lesson: The Original Finder, back in the days of Mac128's, reserved Command-1, Command-2, Command-3 and Command-4 for ejecting the internal floppy, external floppy, snapping a picture of the screen to a file, and snapping a picture of the screen to the printer.

Since floppies are going to the way of the dinosaur Command-1 is rarely used -- and we haven't had external floppies in quite some time, so Command-2 is used even less. Plus there are two other shortcut keys used to get rid of floppies, Command-E (Eject) and Command-Y (Put Away) -- so we can safely "borrow" Command-1 and 2 and only a few really old geeks will be the wiser.

Command-3 is still used to snapshot the screen. Command-4 wasn't being used much, since it was originally only designed for the Apple Imagewriter Printer -- when that went away so did Command-4. But recently Command-4 got a new lease on life, now Command-4 is used to snapshot an area of the screen (selected with the little cross hair), instead of snapping the whole screen. These two snapshot commands came in very handy for writing these articles.
---
Created: JULY/98
Updated: 11/09/02
Top of page


Top of Section


Home