Menu Items
From the artice in MacAddict Magazine

The Hack: The Menu
Although you can't change the menu bar in the Finder by hacking the MENU resource, you can use it to perform intensive menu hacks that will show up in other programs. Like the Calculator. Or the Key Caps menu. We'll show you how to edit the Edit menu.
1. Create a copy of your System file and open it with Resorcerer. Then choose MENU from the list of resource types and scroll down to menu -16471. This is an Edit menu.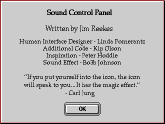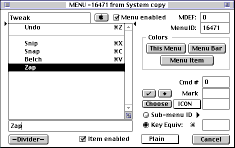 2. Open the menu and edit it by selecting the words you want to change and typing their replacements in the Text Edit Area.
For example, instead of Edit put Tweak -- and replace Cut, Copy, Paste, and Clear with Snip, Snap, Belch, and Zap.

3. Save your changes and drag your original System file out of the System Folder, rename the System copy to System (it should still be in the System Folder), and restart your machine.
To try it out, run the Calculator or Key Caps (under the Apple menu) for a few good giggles.
NOTE: The version of the edit menu that is in the System file, is only used only by a few Applications. Many programs have their own edit menus (since they do more than just cut, copy, paste and clear), and so they don't automatically use our improved one. You can edit those programs edit menus directly if you want to improve them in the same way.
---
Created: JULY/98
Updated: 11/09/02
Top of page


Top of Section


Home