What is a Resource?
The article in MacAddict Magazine

Any graphic that isn't a PICT is an icon.
Icon Resources
ICON-- The first Mac icons, black-and-white and high on nostalgia.
cicn --A complete, self-contained, "paintable" color-icon image, which the system uses in place of an ICON resource if it finds a cicn with the same resource ID as the ICON. Unlike the ICON, a cicn can be any rectangular size.
ICN#-- Both a black-and-white, large, 32-by-32-pixel icon, and a mask that tells the System which pixels are affected when it draws the rest of a large icon family. Most new Macs no longer offer a black-and-white mode, but all the Mac systems still use the mask image to "trim" the image.
Icons really are nothing more than small, fixed-size pictures and for all practical purposes can be treated as such. Icons are used to represent drives, folders, applications, and files; they also show up as small pictures in dialogs, menus, and sometimes buttons.
Although you can create your homemade icons in another program and just paste them in, as with PICT resources, you also can fashion your icons with Resorcerer's icon editor. If you've used an image-editing program, the icon-editing tools should look familiar.
The Hack: The Empty Folder
Normally, we can replace what something's icon looks like -- one at a time. But what if you want to change ALL the Folder Icons at once (instead of one at a time)? Mac OS 8 (and beyond) uses an Appearance Extension to give icons a 3D look. We'll show you how to transform all your normal, plain-Jane folder icons into small 3D apples in one fell swoop by changing the Appearance Extension.
If you're using an earlier version of System software and don't have an Appearance Extension, then you can do the same steps to the System file.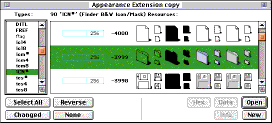 1. Make a copy of the Appearance Extension, which is in the System Folder inside the Extensions folder, and open the copy with Resorcerer. Select the ICN# resource type and then select ID -3999, which is the generic folder icon. Double-clicking on that icon family fires up Resorcerer's icon editor, which you can use to touch up or paint your own icon.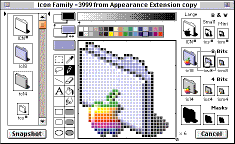 2. Change the icon either by using the painting tools provided or by pasting a picture over it.
To make your icons look good, you have to edit each size in the family. You can save some time by dragging your new icon onto the other icons and letting Resorcerer size it for you, though some touching up is always necessary.
Make sure to update the black-and-white mask if you change the icon's outline.



3. Save your changes, drag your original Appearance Extension to the Trash, rename the Appearance Extension copy to Appearance Extension (it should still be in the Extensions folder), and restart your machine.
After your Mac has rebooted, the new folder will replace all your normal empty-folder icons
---

More Icons?
If you want to find lots of icons, you can search the web -- here are a few good starting points.
---
Created: JULY/98
Updated: 11/09/02
Top of page


Top of Section


Home