What is a Resource?
The article in MacAddict Magazine

The Hack: The Invisible Bit!
One very neat finder flag is for making a file invisible. Invisible files are still there -- but most people don't see them. Sometimes this can be very useful.

QuickTime 3 recently came out and is available at http://www.apple.com/ QuickTime.
QuickTime is free -- but if you haven't yet upgraded to QuickTime 3 Pro, then you'll keep getting a file on your desktop reminding you that you can "upgrade" to the Pro version. I don't know about you, but I got the hint already -- time to make it go away! A simple hack lets you render this file invisible, even though it is still there.
Follow these steps: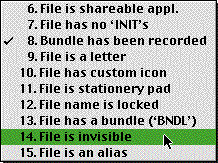 1. Open the Get QuickTime Pro file with Resorcerer and choose File Info from the File menu.
2. Set File Is Invisible from the Finder Flags menu.
3. Save your changes and quit.
That annoying file won't bother you anymore. Hacking rules!
Just so you know, the reason we delete the file is because each program that use QuickTime keeps adding this file back! Just to remind you. So if you deleted the file it would just keep returning the next time you ran any application that uses QuickTime. Making it invisible means that the programs don't have to add it back (since it is still there) AND we don't have to see it.
Of course you can use invisible to hide things from prying eyes -- but it isn't very good security (but better than nothing). Mainly programmers and Apple use "invisible" to hide a few files that users will never need to see or use.
---
Created: JULY/98
Updated: 11/09/02
Top of page


Top of Section


Home