The Hack: CURS
Are your tired of the same old cursors? Well, lets change one. When you use the Finder, if you double-click on a folder (or disk) and hold the mouse down on the second click, a special Auto-open magnifying glass appears in Mac OS 8 or 8.1. If you leave this magnifying glass over a folder (or disk), the folder opens automatically. Keep moving the cursor over folders to tunnel to the level you want, and when you release the mouse button, the last Window selected will be left open.
That's fine if you want the same old boring magnifying glass -- but let's change this magnifying-glass cursor into a special arrow.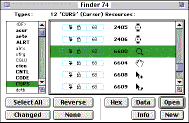 1. Make a copy of your Finder, and open that copy with Resorcerer. Then select the CURS type before settling on ID 6600.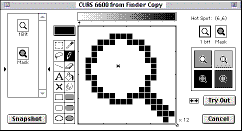 2. Open that cursor, and Resorcerer pops open its cursor editor, which is nearly identical to its icon editor.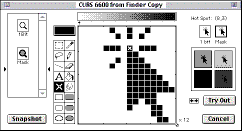 3. Change the cursor either by using the painting tools provided or by screen-copying (or pasting a picture) over it.
Notice: the little x is the hot spot. This is the exact dot where clicks count, so make sure you place it properly.
4. Save your changes, drag your original Finder out of the System Folder, rename the Finder copy to Finder (it should still be in the System Folder), and restart your machine. After your Mac has rebooted, just double-click and hold down the mouse over a disk (or folder) icon for your new cursor.
---
Created: JULY/98
Updated: 11/09/02
Top of page


Top of Section


Home