Animated Cursors
The article in MacAddict Magazine

The Hack: Animated Cursor
An animated cursor (acur) is really just a list of many cursors that make up an animation sequence. When you open up the cursor (CURS) in the finder, you may notice that there are many watch cursors (ID 2400 to 2406), each with the minute hand in a slightly different position. The Mac cycles through those cursors to make the watch appear animated.
To change the cursor's motion, you can edit each of those CURS separately, or you can edit the acur, which contains a list of the cursors in sequence and supplies you with a special control to increase or decrease the animation speed. We'll change the acur for the watch.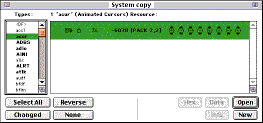 1. Create a copy of your System Folder and open it via Resorcerer. Then select the acur type with the ID -6078.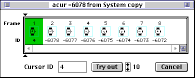 2. Open the acur, and Resorcerer supplies you with a special acur sequence editor.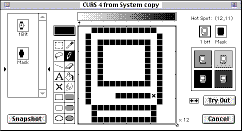 4. Edit the cursor&emdash;we turned ours into a little Mac. While you're drawing, remember to keep an eye on the final image at its actual size to keep your perspective while you're zoomed in.
Notice: the little x is the hot spot. This is the exact dot where clicks count, so make sure you place it properly.
5. Select and tweak each cursor in the acur sequence until you've perfected the animation -- we made the little Mac's screen slowly fill up.
TIP: If your cursors are in numerical order by resource ID, Resorcerer's Cursor Editor lets you peek at the previous or next frame in the sequence while you're editing. Just click the little arrows to the right of the Try Out button. You also can use the editor's arrows to increase or decrease the time delay between actions and make the cursor spin more slowly or faster. Before turning your cursor loose on the System, give it a cursory glance with the Try Out button to see how well it behaves.
6. Save your changes and drag your original System file out of the System Folder, rename the System copy to System (it should still be in the System Folder), and restart your machine.
The new acur will be active after you've rebooted, but you won't be able to see your work until you need the cursor to do something. What are you waiting for?
---
Created: JULY/98
Updated: 11/09/02
Top of page


Top of Section


Home