Mac Easter Eggs
Utilities
By: David K. Every
& Daniel Fanton
(C) Copyright 1999 DKE - All Rights Reserved.

Apple System Profiler
The Apple System Profiler helps support people (at Apple and elsewhere) figure out all sorts of information about your computer and configuration to help them diagnose problems.
Hidden Balloons
Simply go to "About Apple System Profiler" in the Apple Menu. Then, turn on Balloon Help and drag your cursor over the many names in the about box.
The text and baloons change version to version -- but here is an early beta version.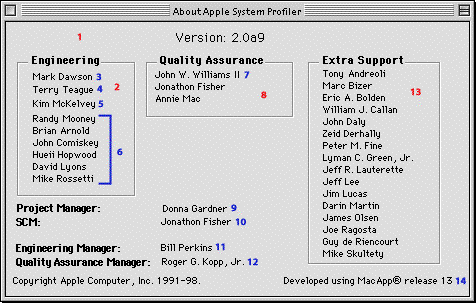 The Balloons
1
(Anywhere Outside Credit Boxes)

2
(Anywhere Inside "Engineering" Box)

3

4

5
6

7

8
(Anywhere Inside "Quality Assurance" Box)

9

10

11

12

13
(Anywhere Inside "Extra Support" Box)

14
---
Created: 08/26/98
Updated: 11/09/02
Top of page


Top of Section


Home