Mac Easter Eggs
Utilities
By: David K. Every
& Daniel Fanton
(C) Copyright 1999 DKE - All Rights Reserved.

Simple Sound (1.0)
Apple used to have a Sound Control Panel (or sound control in the General Control Panel). Then someone had the brilliant idea to make a "Monitors & Sound" Control Panel to combine the two disimilar functions into one ugly whole -- no one is completely sure why.
I suspect it had something to do with some models of monitors (AV Monitors) had built-in speakers, so someone (who should be slapped) figured "what the heck, let's combine the two functions." For the record, this is not a good way to do interface. "Sound and Speech" makes a lot more sense. "QuickTime and Sound" would be a bit lame, but still be better than "Monitors & Sound" -- but I digress.
Not only was Monitors & Sound a weird combination, but it has lots of features and sliders (Balance, Input, Output, SampleRate, Volume, Mute), so most people weren't sure of exactly what they were supposed to change. So once Apple created "Monitors & Sound" Control Panel, Apple got a wave of complaints (in testing I assume) from those who just wanted a "Simple Sound" Control Panel! Instead of taking the hint (and doing good UI and thinking, "maybe this isn't such a good idea"), they instead decided to create both control panels to smooth the transition. So us lucky users got a new "Simple Sound" Desk Accessory to go with the "Monitors & Sound" Control Panel so that no one would know exactly where they should go to in order to change their bloody volume (and I assume Apple did it just to prove to us that Apple doesn't always do good UI).
Hidden Dialog
The point to all that diatribe was just for me to rant. However, for what it is worth, this Desk Accessory does have an Egg.
Go to "About SimpleSound" in the Apple Menu.
Click on the icon to reveal SimpleSound's creator.
Which reveals a simple dialog: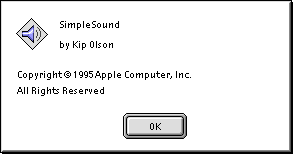 Hey, I didn't say it was a good egg.
---
Created: 07/26/99
Updated: 11/09/02
Top of page


Top of Section


Home