Apple Easter Eggs
QuickTime
By: David K. Every
& Daniel Fanton
(C) Copyright 1999 DKE - All Rights Reserved.

Things! (1.0a2)
I somehow got my hands on a really old Control Panel named "Things!", I think the most complete version was 1.0a2 from 1992 by Gary Woodcock.
Each QuickTime Component (Plug-in) is called a "Thing" (ID 'THNG') -- so the things control panel is to look at all the "THNG"s installed and help make the development of/with/for QuickTime easier.
At the bottom of the control panel there are buttons to switch to different panels. One panel is an about box. To the right is the QuickTime logo. If you Option-click that logo you will hear a cat meow... kinda, see the picture displayed here, and a read line saying "Phaser says yo, dude!"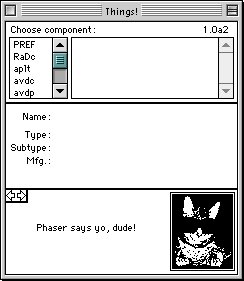 Balloon
In the control panel's resource, two Balloon Help strings (which I could not access outside of ResEdit) say:
"Gary is the owner of the phamed and pheared Phaser beast, pictured at right."
"Phaser says hi when you click on him."
Phaser also shows up in the Video Monitor about box.
---
Created: 08/26/98
Updated: 11/09/02
Top of page


Top of Section


Home