Apple Easter Eggs
Addition
By: David K. Every
& Daniel Fanton
(C) Copyright 1999 DKE - All Rights Reserved.

QuickDraw 3D (1.0.6)
QuickDraw 3D Code Name: Escher From:
Balloon
Turn on Balloon Help and place the cursor on the QuickDraw 3D extension.
At the bottom of the balloon, you should see the message
"Flatland no more. Come and follow us into the Third Dimension".
Resource
This does not exist in version 1.5.1 of QD3D.
The resource of the QuickDraw 3D Install script contains two graphics in the PICT resource. One is of the main splash screen (ID# 1000) which you see before you install the program, and the other (ID# 1001) is the same type of thing, but a bit different
Instead of the normal icon, there is a smiley face. And instead of the usual instructions and descriptions, there is a wacky version. I have no idea how to access this, but it is a lot of fun to read if you have ResEdit.:
QuickDraw 3D Viewer
In the QuickDraw 3D Viewer there is a picture of a Golden Lab dog. However, you will need to view it with CanOpener because nothing else seems to work. QD3D Viewer is an OpenDoc - based 3DMF viewer. It allows you to embed 3DMF files into OpenDoc documents.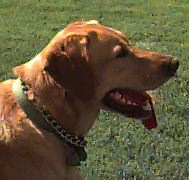 ---
Created: 07/26/99
Updated: 11/09/02
Top of page


Top of Section


Home