Apple Easter Eggs
Hardware
By: David K. Every
& Daniel Fanton
(C) Copyright 1999 DKE - All Rights Reserved.

Lowest Levels
One of the lowest level easter eggs in existence, is where when some machines are turned on, the lowest level hardware (ROM?) initialized the register set of the 68000 with the ASCII codes for "AL SCALISE". Of course it is erased as soon as the machine start to do anything (like boot) -- so you will never see it unless you have a logic analyzer attached before booting.
About the only Eggs lower level than this, are the ones where the chip designers actually etch little pictures or their initials/names/etc., on the Microprocessors or support chips themselves. Like this one on the PowerPC 750 which shows King Arthurs Sword (Excalibur). At least I assume it his sword since the Code name for the 750 was "Arthur".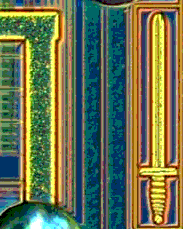 All these type of eggs are extremely obscure and hard to find. You need things like Logic Analyzers, or in the case of little etchings you actually need to remove the chip carrier, and look over the surface of the silicon with a microscope. Let me know if you find any!
---
Created: 07/17/99
Updated: 11/09/02
Top of page


Top of Section


Home