Apple Easter Eggs
Extensions
By: David K. Every
& Daniel Fanton
(C) Copyright 1999 DKE - All Rights Reserved.

There are a few plug in communication "tools" that allow Communication Toolbox to access many devices (using these plug-in's).
Apple Modem Tool (1.5.5)
The Apple Modem Tool can be accessed in the connection settings window by selecting it under Method. In order to access this window, you need to have some sort of terminal modem program (like Z-Term or ClarisWorks) that will give you access to it.
The easter egg involves the version number (no surprise) which is in the Port section of the window, on the right hand side, across from "Hand Shake". Just click on it.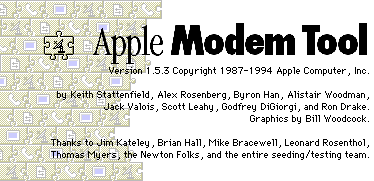 XMODEM Tool (1.1)
The XMODEM Tool extension also has an egg.
In the PICT resource, ID 31056
There is a list of credits. It is unkown whether or not the list can be accessed somehow.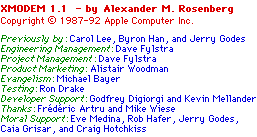 ---
Created: 08/26/98
Updated: 11/09/02
Top of page


Top of Section


Home