Mac Easter Eggs
Extensions
By: David K. Every
& Daniel Fanton
(C) Copyright 1999 DKE - All Rights Reserved.

MacsBug (6.5.4)
NOTE: MacsBug stands for Motorola Advanced Computer Systems DeBUGger. The "Macs" part has nothing to do with the Macintosh computer.
Balloon Help
move over the program's icon
You will see
"This file provides programmers with information proving that it really was a hardware problem...".
6.5.4a1 has the altered message: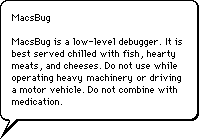 "MacsBug is a low-level debugger. It it best served chilled with fish, hearty meats, and cheeses. Do not use while operating heavy machinery or driving a motor vehicle. Do not combine with medication."
Control on reboot
Hold down Control when you start-up your computer.
If you have MacsBug installed it will immediately go to the program. Then it will say "Welcome to MacsBug (thanks for holding down Control)".
Type G and push Return to continue your start-up.
Resedit
In the MacsBug 6.5.2 file, use ResEdit to open the only "mxnx" resource.
Then use ACSII find and look for "Ol'" (Oh Ell apostrophe)
You will find the text "Ol' McDonald had a farm..."
Help Leaks
In version 6.5.4, and maybe earlier versions, trigger MacsBug and type "help leaks".
You will see at the bottom:
"What we have here is a failure to deallocate."
Also
There are a few extra eggs, like RAM Doubler.
---
Created: 08/26/98
Updated: 11/09/02
Top of page


Top of Section


Home