Mac Easter Eggs
Control Panel
By: David K. Every
& Daniel Fanton
(C) Copyright 1999 DKE - All Rights Reserved.

WindowShade (1.3.1)
This will not work with version 1.2 or earlier, and Window Shade was replaced in System 8.
Open WindowShade
Click on the mouse button in the picture
You will see some credits by the author.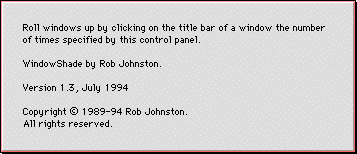 ---
Created: 07/26/99
Updated: 11/09/02
Top of page


Top of Section


Home