Apple Easter Eggs
Control Panels
By: David K. Every
& Daniel Fanton
(C) Copyright 1999 DKE - All Rights Reserved.

Sound (8.0.5)
The Sound control panel was also removed in System 8 to make way for better things (it became Monitors and Sounds).
In the Sound control panel, if you hold down Option and scroll down to sound input or any menu item,
You will hear a sound and see some credits.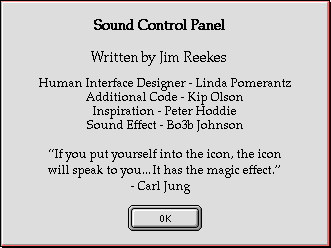 Also
In the Sound control panel under Sound Effects (AV Macs)
if you click and hold down on the little version and icon in the lower right-hand corner of the screen,
Credits will scroll along the bottom of the screen.
---
Created: 08/26/98
Updated: 11/09/02
Top of page


Top of Section


Home