Mac Easter Eggs
Control Panel
By: David K. Every
& Daniel Fanton
(C) Copyright 1999 DKE - All Rights Reserved.

Screen
This was used on machines that had software controlled brightness (like Classic and ColorClassic Macs).
Hold down Option and click on the upper half of the words "Screen Brightness"
You will see a credit for Gayle Wiesner. Don't ask me how I found this one.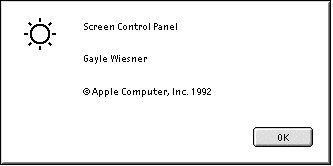 ---
Created: 07/26/99
Updated: 11/09/02
Top of page


Top of Section


Home