Mac Easter Eggs
Control Panel
By: David K. Every
& Daniel Fanton
(C) Copyright 1999 DKE - All Rights Reserved.

Remote Access (1.0)
Go to the ic18 resource. You should quickly notice I.D. 2010.

Remote Access (3.1a4)
Remote Access Client 3.1a4 (known as "Remote Access" in control panels folder) has taken advantage of the about box found in most Open Transport control panels.
Hold down Option and go to "About Remote Access Client".
After a few moments, text reading "by OT/ARA team" will pop up in the about box. Truthfully, I thought Apple was much more creative than this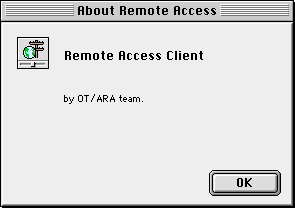 ---
Created: 07/26/99
Updated: 11/09/02
Top of page


Top of Section


Home