Mac Easter Eggs
Control Panel
By: David K. Every
& Daniel Fanton
(C) Copyright 1999 DKE - All Rights Reserved.

QuickTake Image Access (2.0.1)
This control panel that comes with many of Apple's digital QuickTake cameras, and sports a little easter egg.
Simply click on the version number in the lower-right corner in the main screen of the control panel.
Up will pop a credits dialog box: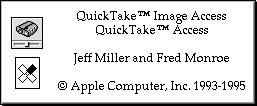 ---
Created: 08/26/98
Updated: 11/09/02
Top of page


Top of Section


Home