Mac Easter Eggs
Control Panel
By: David K. Every
& Daniel Fanton
(C) Copyright 1999 DKE - All Rights Reserved.

Keyboard (8.0)
Briefly in System 8, Apple engineers spiced-up the most boring Control Panel of them all! ...slightly. Of course that has been corrected.
Hold down Option when going to "About Keyboard..." in the Apple Menu.
You will find a little credit presentation.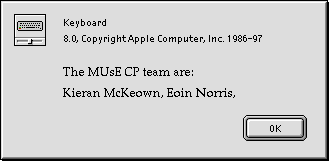 ---
Created: 07/26/99
Updated: 11/09/02
Top of page


Top of Section


Home