Mac Easter Eggs
Control Panel
By: David K. Every
& Daniel Fanton
(C) Copyright 1999 DKE - All Rights Reserved.

Extensions Manager (4.0.3)
Extension Manager is a trouble-shooting tool used to turn on and off various control panels and extensions (the things that add functionality to your system software).
Click on the version number ("version 3.0.3" or "version 4.0.3"),

- or -

Hold down Option and go to "About Extensions Manager...".
Both ways will reveal credits.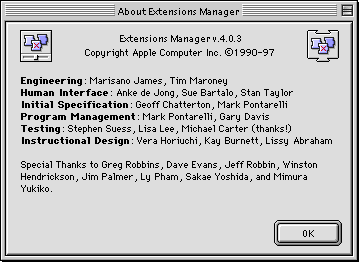 Balloon
If you look in the Extensions Manager control panel version 2.0 by Ricardo Batista, balloon help on the version number.
You will see a message that says this:
"This is the author's name. Ricardo is a cool dude who makes utilities like this one just for fun."
---
Created: 07/26/99
Updated: 11/09/02
Top of page


Top of Section


Home