Mac Easter Eggs
Control Panel: PowerBook
By: David K. Every
& Daniel Fanton
(C) Copyright 1999 DKE - All Rights Reserved.

Desktop Pictures (1.0)
This control panel was replaced with the far more versatile Appearance in System 8.
Name any PICT file "secret about box".
Open it as a picture through the control panel.
You will see a bird with credits on it's body.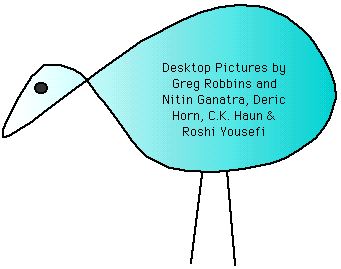 Also ID 4005 in the STR# resource. String number 6 is:
"This balloon string is no longer needed, so I'll use it to say Hi Mom."
---
Created: 08/26/98
Updated: 11/09/02
Top of page


Top of Section


Home