Mac Easter Eggs
Control Panel
By: David K. Every
& Daniel Fanton
(C) Copyright 1999 DKE - All Rights Reserved.

Control Strip (1.3)
This one only works with earlier versions of the OS, and was "fixed". (And remember, some earlier version of Control Strip only worked on the PowerBooks).
Option-click the "Current Hot Key" box below the "Define Hot Key" button,
The name "Steve Christensen" appears in the header of the window, replacing "Control Strip."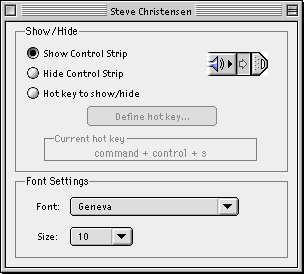 ---
Created: 07/19/99
Updated: 11/09/02
Top of page


Top of Section


Home