Mac Easter Eggs
Control Panel: PowerBook
By: David K. Every
& Daniel Fanton
(C) Copyright 1999 DKE - All Rights Reserved.

Color (7.1)
Color was a System 7 based Control Panel. It's function was to let you change the selection text color. It was replaced in System 8 with the Appearance Control Panel.
In the color control panel, click and hold down on "Sample Text" and you will get the name of the person who programmed it, "Dean Yu".
Click again and you will see the other creator, "& Vincent Lo".
If you click some more, on the 16th click you will see the name Don Louv.
It is hard, but by clicking even more rapidly you will find the words"doodle doodle dee" (click 42)
And finally "wubba wubba wubba"(click 84).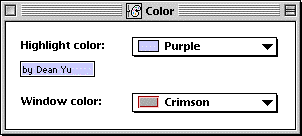 Supposebly the phrases "doodle doodle dee" and "wubba wubba wubba" come from the first MTV advertisement that ran in 1980 or so.
---
Created: 08/26/99
Updated: 11/09/02
Top of page


Top of Section


Home