Mac Easter Eggs
Control Panel
By: David K. Every
& Daniel Fanton
(C) Copyright 1999 DKE - All Rights Reserved.

CloseView (7.2.1)
Close View is a Control Panel to help the visually impaired magnify things one the screen.
Use Balloon Help on the CloseView icon.
You will get the following: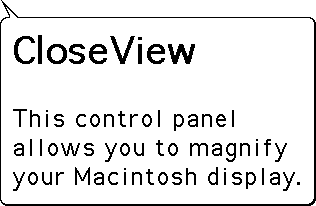 Very cute.
---
Created: 07/19/99
Updated: 11/09/02
Top of page


Top of Section


Home