T-shirts For Sale
BUY! BUY! BUY!
Because some people asked for them, I wanted some for myself, the desire to promote MacKiDo (and Macs), and in a complete cave-in to gratuitous commercialism, and I've decided to sell T-shirts.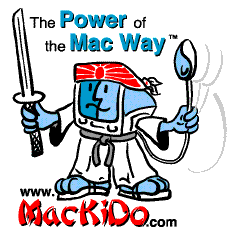 The back has this original artwork as seen to the right (thank you), and the front has the MacKiDo Kanji (Chinese characters for Mac Ki Do in red and black).
These colors may look a little messed up due to gif/html and your monitor. But they are Red, Black, and two tones of blue.
T-Shirts are plain white superior quality (100% cotton), yada yada yada -- marketing speak for nice quality shirts that won't die the first time you wash them. Which all makes sense when you figure that I want them to last and look good so that you can advertise MacKiDo (and the Mac).
I've already shipped out a bunch -- very cool stuff.
Please allow 4-6 weeks for shipping. I have made a bunch of shirts and so I expect to be able to deliver quicker than that, but I have no idea how fast they will sell, nor how long it will take to get them too you (i.e., the mail).

International orders, consider yourself lucky if the customs people don't keep them for themselves, or if the ship doesn't sink on the way, and so on. Considering the results I get with international shipments, plan on somewhere between 10 days and 10 months.
NOTE: Henley's (Baseball-T's) were costing me too much to make. I've got 4 Larges and an Extra Large left -- email me if you want one of those.
---

Order Form
Ship to:
Name:

Address:

Address2:

City:

State:

Zip:
Comments:

Deluxe Regular T-Shirt

Size

Description

Unit Price

QTY.

Sub Total

Large

Regular T

$12.95

Extra

Regular T

$12.95

XXL

Regular T

$12.95

Other Stuff

U.S. Shipping and Handling Charges

$4.95

International Shipping and Handling Charges

$9.95

Ca. Residents add Sales Tax

+ 7.75%

TOTAL:
Send check or money order, along with this form to:
MacKiDo T-shirts
12356 Caminito Festivo
San Diego, CA 92131
---
Created: 09/01/98
Updated: 11/09/02
Top of page


Top of Section


Home