Microsoft Word 98 Flaws
Macronames for Macros
By: Pierre Igot
Size does matter (Microspace for macronames)
Macro creation is also part of the "customization" process, although it represents a whole chapter in itself and needs to be treated separately. However, once you have created a new macro, it appears in the lists in the "Customize..." dialog box and can be added to any toolbar or menu or be assigned a keyboard shortcut, like any other Word command.
For some reason beyond my humble Mac-UI-based comprehension, however, each of the new macros that I create in Word 98, even in the Normal template, has an extremely long name that always starts with the "Normal.NewMacros.", followed by the name that I gave it. What the purpose of this naming convention is, I do not know, but what I do know is that because of the extremely long names and the fact that, of course, the "Customize" dialog box is not resizable, if my macro's name happens to be more than 7 or 8 letters long - which, dare I say, happens quite often since I like to give my macros explicit names that actually describe what they do - it is truncated by the scroll bar on the right-hand side.
Four very different macros...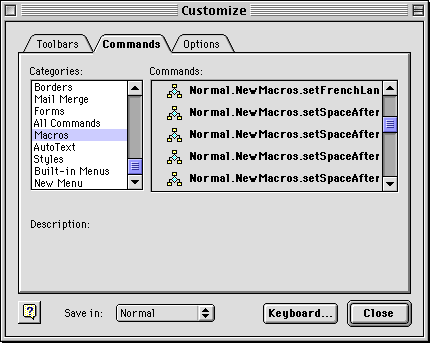 For example I have macros like "setSpaceAfterTo12", "setSpaceAfterTo24", etc. (I have a whole set of these that are available through a toolbar, because to me paragraph spacing is an essential and sorely underused feature of word processors.) Of course, thanks to Microsoft's macro naming conventions, it is absolutely impossible for me to visualize the end portion of the name in the "Customize" window (see above) and I end up having to guess which is what (based on the alphabetical order). Convenient no doubt.
Conclusion
There's lots more to say about macro recording and programming in Word 98 (in itself and as opposed to macro programming in Word 6) before you can even consider adding your macros to a toolbar or menu, but we will have to keep that for another article...
[Return to Word Customize]
---
Created: 6/13/98
Updated: 11/09/02
Top of page


Top of Section


Home