Apple Easter Eggs
Mood Swings?
By: David K. Every
& Daniel Fanton
(C) Copyright 1999 DKE - All Rights Reserved.

Mac OS 7.5 Mood Swings?
After restarting, hold down the Apple-Option keys to rebuild your desktop
you will see the "Are you sure you want to rebuild your desktop?" window pop up. Before clicking "Cancel" do a little exploring...
Under the Apple menu (it will be grayed), there is simple a lowercase "p".

In the File Menu we will find an "m" at the very bottom of the menu.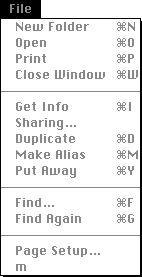 And finally, our travels bring us to an "s" in the Special menu.

The problem with acronyms is that they can mean so many different things... this of course could just be some bug -- where some things in the Finder don't get loaded or setup until after this stage of the boot process (and that normally you aren't supposed to see these menu items). Or it could be a conspiracy.
Also
In the Labels menu beside each color is a single letter. Those letters spell out "alanjef" vertically. To get more info. on this, go to Labels Control Panel.
---
Created: 08/26/98
Updated: 11/09/02
Top of page


Top of Section


Home