By: David K. Every
& Daniel Fanton
(C) Copyright 1999 DKE - All Rights Reserved.


Apple Guide (1.2)
Code Name: Reno
In Apple Guide, v1.2, there is a way to see a list of credits. I don't know how to trigger the egg but I found it by opening the Apple Guide extension through ResEdit. After opening the TEXT resource and double-clicking on "Who?", you will see this:
Version 1.2 of Apple Guide is brought to you by:

Greg "twin-turbocharged Brewer
Peter "and furthermore" Commons
Dave "do the right thing" Falkenburg
Bill "oh yeah, that one" Foster
Amy "pound on it" Hansen
Brent "I'm excited" Horger
Josh "just one more feature" Jacobs
Glenn "let's get organized" Katz
Sue "will do" Kuo
Brian "that's next on my list" Lawley
Dave "cursorman" Lyons
James "I'm in the chips" Miyake
John "follow me, I'm lost" Powers
Alex "you can quote me" Rosenberg
In the French System, all of the text is in French except for the very last name, which was an addition for the French Apple Guide: Mario "Ah que coucou" Teixeira. This translates literally as "Oh what peekaboo". It is an expression from French singer Johnny Halliday who is supposed (according to a TV program called "Les Guignols de L'Info") to always say "Ah que coucou".
From: Alexandre Enkerli ([email protected])

Macintosh Guide
When opening Macintosh Guide from the Apple Guide menu, you will be presented with what's called the 'Howdy Screen'. This is a preliminary introduction screen telling a little about the database the user just opened. If you press Control, Command, and Caps Lock down, and click in the content of the window (before you do anything in the window), you will see a list of credits containing the names of those who have worked on Apple Guide. From: Devon Hubbard ([email protected])

In Macintosh Guide, System 7.5.3, do a search for "Bill Gates". This will bring up DOS and everything involving PCs on a Mac. "Bill" and "Gates" do not register in the directory, and every other name I could think of was treated as two words, meaning that Gates was not a normal entry and is indeed an easter egg. Boy, Apple's help features just keep getting easier to use.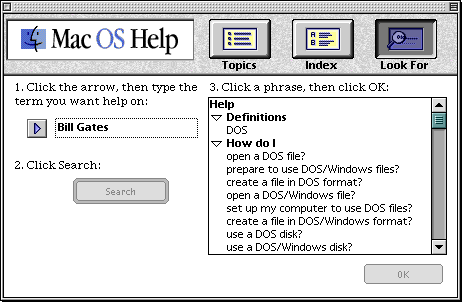 From: Matt Nichols ([email protected])
Apple Guide 1.4.1 & Macintosh Guide 2.2
Apple rarely, if ever, reacts to the discovery of an easter egg. Well, I have to applaud the Apple Guide team on this one. With the release of System 7.6 (and version 2.2 of Apple Guide), Apple had a little fun with the Macintosh and Apple Guide eggs explained above.
In Macintosh Guide, the credits have changed to a help tab saying "How do I" for one topic and "Find the credits?" for the subtopic. I looked; I can't find them.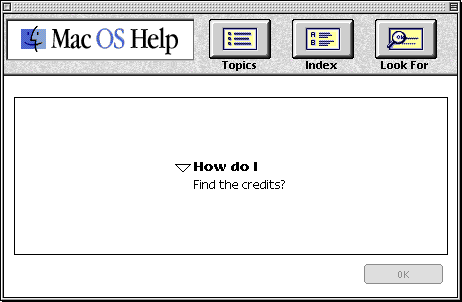 The engineers also removed the credits in Apple Guide's resource, which have been replaced by a poem:
As the Lighthouse keeper climbed the stairs,
the keeper knew that future generations
would benefit from today's work.
---
Created: 08/26/98
Updated: 11/09/02
Top of page


Top of Section


Home