Mac Easter Eggs
Control Panel
By: David K. Every
& Daniel Fanton
(C) Copyright 1999 DKE - All Rights Reserved.


Users & Groups (8.0)
Make a new user (or new group) in the control panel.
Close the New User window without naming it.
Now click on the user you just created and rename it to "secret about box".
Press Return.
Sit back and watch the credits roll!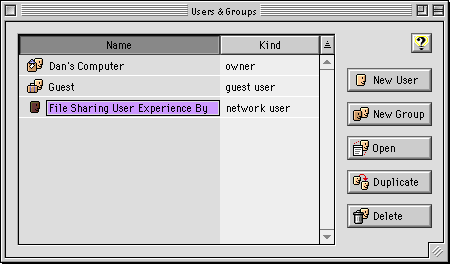 Names Listed:
Brad Hochberg

Eric Koebler

Sue Bartalo

Greg Robbins

Guy Fullerton
---
Created: 07/26/99
Updated: 11/09/02
Top of page


Top of Section


Home